Personal message from Dale
I get calls and e mails from two types of plumbing customers. Those who call
AFTER
they've been ripped off and they can't find the plumber, and those who call or e-mail wanting to know if there really are measurable differences in plumbers. My emphatic answer, perhaps more emphatic than any other home services category, is YES. That's why I trust Superior Plumbing.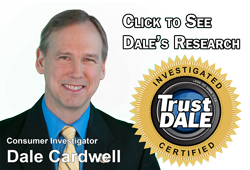 Learn more about Superior Plumbing
Price
Don't be fooled by plumbers (or unlicensed handymen) who tell you they'll work by the hour. Time and time again, your simple fix becomes an expensive money-trap, and when you finally pull the plug, you still have the problem! Superior Plumbing offers Up-Front Pricing: You agree to a price - that won't rise - before the job begins. Superior Plumbing has been treating people right since 1988. My review finds fair pricing derived from honest, high-quality service.
Quality
Your Superior Plumbing experience begins with a respectful, quality person answering your call, a seasoned, drug-tested, licensed and insured professional dispatched to your home or business, along with parts and craftsmanship that will last. Superior's pledge to TrustDale and to you: "If we fail to do our job right, we make it right quickly, with an apology and at no cost."
Customer Service
As a long time consumer investigator, I've learned to tell the difference between those who claim superior service and those who deliver it. It starts with attitude. I've found Superior Plumbing personnel honestly find pleasure in serving your needs. Its starts with a desire to treat you the way Superior Plumbing folks want to be treated when they are the customers. It's topped off by completing the task in a way that exceeds your expectations. What's more, your Superior Plumbing experience is backed up by the TrustDale Make It Right Guarantee!™
"Superior Plumbing is phenomenal. Starting with their Plumber Shark and "Throne" ranger billboards!! Both billboards got my attention and as soon as I had a leak in my house, I knew exactly who to call. Melissa took my call and was able to get a plumber out to me within 30 minutes! Beau showed up within the time frame promised to me and was able to fix my leak within minutes. Beau also took the time to explain and answer the many questions that I had for him being a new homeowner! I would 100% recommend Beau and Superior plumbing!!! Thanks for everything!!"
Aaron V.
"We noticed a lot of water outside and called Superior. Mitchell came out yesterday and determined we had a leak in the service line from the meter to the house. He gave us the contact information for the leak detectors. The leak detectors found the exact location of the leak, and we called Superior back. Mitchell came back the same day to fix the leak. He had to dig a four foot hole where the line fed into the house and amend the connection. This was a big job that he took care of quickly and professionally. He worked to ensure that everything was right and the meter was showing no leaks before closing up the hole. He is smart and personable and knows what he is doing. Mitchell is welcome in our home anytime."
Kate S.